Vintage Storytelling for Advanced Audio
AN AUDIO THRILLER, BASED upON A STORY BY STEPHEN KING.
This Dollar Baby production stars Kenneth Wayne Bradley (Troop Zero), Ken Webster (Waking Life) and Heath Allyn (Triple Six) —  Run time – 42:06
-- Cinema through your headphones. A movie for your mind. --
As a fierce Maine blizzard moves in, two old friends at the bar are ready to call it a night. When a frozen tourist bursts in desperate for help. His car is stuck in a snow drift a few miles back. With his wife and young daughter trapped inside. 
The two Mainers agree to assist. But they're scared of what they might find out there in the dark. And the long drive to the stranded car. Abandoned in 'Salem's Lot.
Awards and Laurels for One for the Road
TRIPLE SIX is a five episode audio production starring Joe Stevens of True Grit, Texas Chainsaw Massacre: The Next Generation and Elmore Leonard's Justified.
Awards and Laurels for Triple Six – Episodes 01 & 02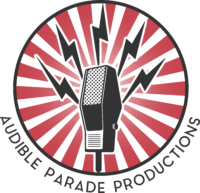 Audible Parade Productions creates audio stories for today.  
Our productions are much more than audiobooks. We make movies for your mind. Storytelling through sound design.