Vintage Storytelling for Advanced Audio
TRIPLE SIX is a five episode audio theater production starring Joe Stevens of True Grit, Texas Chainsaw Massacre: The Next Generation and Elmore Leonard's Justified.
A husband and wife take a trip to Las Vegas to rekindle their relationship. The wife is kidnapped by an underground element and the husband is forced to play twisted games to get her back.
Suspense / Thriller
Audio Trailer length:  02:15
Starring Joe Stevens, Arwen Tedhams, John Hall, and Patricia Zamora
Riley and Brynn Banks head for Las Vegas to give their marriage a boost. Fun in the sun is exactly what they need. But the trip doesn't go as planned.
Suspense / Thriller
Audio Story length:  26:35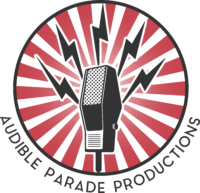 Audible Parade Productions creates audio theater for today.  
Our productions are much more than audiobooks. We make movies for your mind. Storytelling through sound design.